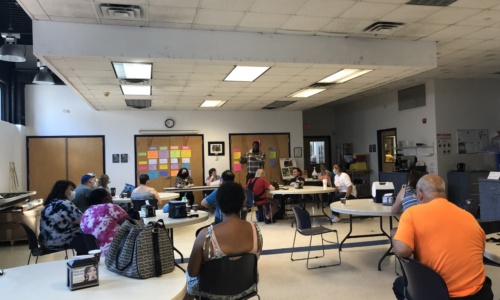 Recovery is a process of change through which we improve our health and wellness, live self-directed lives, and strive to reach our full potential.
No One Gets Through Life Alone
Isolation can be harder than any mental health symptom, so it's great to have a place where "everyone knows your name." Come for the music, the food, and the ping pong; or feel free to just be, in a place founded on mutual respect and kindness. We offer daily coffee, breakfast, and lunch; recreational activities onsite and at local parks; and fun holiday events. See our calendar for what's happening this month.
About
Peer-run Recovery Centers use peer support and advocacy to create safe spaces for people to build the lives they want. Peers know first-hand what it's like to experience emotional distress, voices and visions, traumatic life events, and/or psychiatric diagnoses. Together we share what we've been through, provide opportunities for healing, knock down barriers to recovery, and have fun along the way. Recovery Centers are ideal for people for who want an adjunct to clinical treatment or who might reject clinical diagnosis and treatment altogether.
Advocacy
HALI's Advocacy staff works with participants to address barriers to recovery and provide a roadmap to the treatment and social service systems, including education about their rights and available resources:
Food pantries and clothing closets
Housing, rental assistance, disability, and health insurance applications
Ensuring you receive services that are trauma-informed, person-centered, and culturally appropriate
Connection to safe supports for people without U.S. documentation
Assistance accessing and getting the most out of clinical and care coordination services
Learning how to increase income or save money without losing your benefits
Putting an Advanced Directive in place to protect your choices
Opportunities for getting your voice heard
"Beyond HALI" – Community Participation
Find ways to be part of the community in ways that are important and meaningful to you. For some, this might include voting registration or legislative advocacy. For others it could be taking a class, volunteering at an animal shelter, or getting a part-time job. It can also be as simple as getting more familiar with local resources and events – libraries, places of worship, shops, arts festivals, or outdoor parks. HALI can discover these places with you together.
Employment Exploration & Supported Employment
For many of us who have experienced the mental health system, somewhere along the way we let go of "what we wanted to be when we grew up". But we all have unique interests, passions, and strengths. There is no reason we can't reconnect with the power in these parts of ourselves, remembering what brings us joy, or maybe even discovering it for the first time. HALI engages in this discovery process with people, inspiring hobbies, topics we want to learn more about, and goals for volunteering,
education, or a new career.
Many of us are taught we must "get better" before we can work. The reality is that with support, work can be one of the key factors that helps us feel well. In addition to a sense of purpose, employment can facilitate new relationships, car or home ownership, savings/getting out of debt, even planning a well-earned vacation. HALI's Employment Specialist works with people to support self-directed employment goals:
Turning a hobby into an entrepreneurial business
Prepping to take continuing education courses, get a GED, train to be a peer professional, or get an advanced degree
Building a resume and practicing interview skills
Learning how to use online job sites
Getting used to a work schedule and work environment
How to earn additional income without losing disability or medical benefits
Creative Connections: Supporting People in Pilgrim State
HALI's Creative Connections* program connects the community with people housed in Pilgrim State, Long Island's one remaining psychiatric institution. Each month, HALI delivers a box of letters, pictures, and inspirational notes to Pilgrim, collected from the community. Each person institutionalized there – for whom connection to the outside world can often feel impossible – receives their own "community connection", letting them know that we stand with them, and they are not alone. For
more information, contact support@hali88.org. Send notes, letters, and pictures to:
Creative Connections
c/o Hands Across Long Island
159 Brightside Ave.
Central Islip, NY 11722
*Creative Connections is inspired by the Madwoman in the Attic's December Letters Campaign, 2020. For more on the history of NYS psychiatric institutions, visit Lucy Winer's film www.kingsparkmovie.com or Darby Penney's book The Lives They Left Behind.