HALI connects with people without stable housing in the Suffolk County community in multiple ways:
Mobile Shower Unit: Comfort, Dignity, and Respect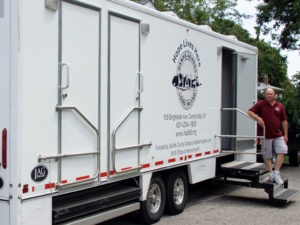 The HALI Mobile Shower Unit (MSU) provides a refreshing, safe, and supportive respite in the community for people who need a place to get a warm shower. The unit is a large temperature controlled mobile trailer with four shower stalls, making regular stops at locations throughout Suffolk County, often partnering with places of worship, libraries, or other community sites. HALI peer staff assist with the unit and engage people in non-judgmental relationships, building trust and making referrals to system services as wanted and needed. MSU staff also distributes health education materials, refreshments, as well as clean socks, underwear, wash/hygiene kits, and PPE (masks).
For a current schedule of MSU stops, or to request a stop, contact support@hali88.org.
Food Pantry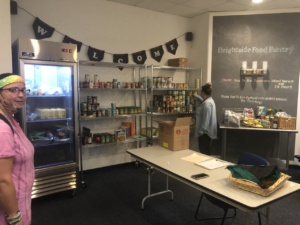 HALI's Food Pantry in Central Islip provides supplemental food to those in need. Partnering with LI Cares and Island Harvest, HALI is glad to be part of eliminating food insecurity in Suffolk County. We make a concerted effort to include healthy choices and provide healthy eating education as part of our Food Pantry service. In addition to open shopping opportunities, HALI also may create "Care Packages" for pickup or delivery.
For current hours, contact support@hali88.org.
Clothing Closet
HALI's Clothing Closet provides the opportunity for well-fitting, clean, seasonally appropriate clothing for those who need it. We also distribute new/packaged socks and underwear.
For current hours, contact support@hali88.org.
Community Meal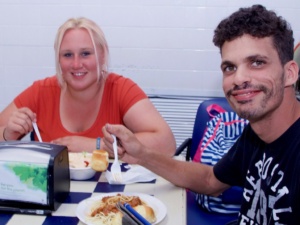 HALI prepares a hot, delicious meal and provides social opportunities at our Central Islip location. HALI staff is available to facilitate and provide peer support, linking attendees to other healthcare or community supports as wanted and needed.
For dates, contact support@hali88.org.